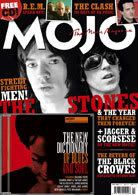 Go grab the latest issue of Mojo and I swear to you, you'll be tappin' your toes and swayin' your shoulders, at least just a little bit, by the end of the night.
Aside from featuring an interesting article on LA's own the Roxy, and an article that's made me gain more respect for Jackson Browne, this month's issue features the real reason for the this post: a really great soul and blues compilation.
This compilation has every right ingredient to make you want to sway. Catchy, emotional, raw, rhythmic... I could go on. And the best part of all? They're all contemporary artists! Yep, so you can still catch live performances and even expect more great hits from 'em.
If you're a fan of blues or soul or being awesome, check this comp out, you won't be disappointed. The track listing is as follows, my personal favorite is "Nobody's fault but mine" by Beth Rowley.
"(Doin' The) Boom Boom" - Eli "Paperboy" Reed and the True Lovers
"Necessary Evil" - Edgar "Jones" Jones
"Chicken Half" - Sugarman 3
"What Have You Done" - Naomi Shelton and the Gospel Queens
"If This Ain't Love" - Nicole Willis
"No Smoke Without Fire" - James Hunter
"Return To Gijon" - The New Mastersounds
"100 Days, 100 Nights" - Sharon Jones and the Dap-Kings
"Hard Times" - Watermelon Slim
"So He Won't Break" - The Black Keys
"Blackeyedsusan" - Jose James
"Nobody's Fault But Mine" - Beth Rowley
"Things Go Up" - Seasick Steve
"I Don't Like The Man I Am" - Pete Molinari
"Let Us Get Together" - Marie Knight