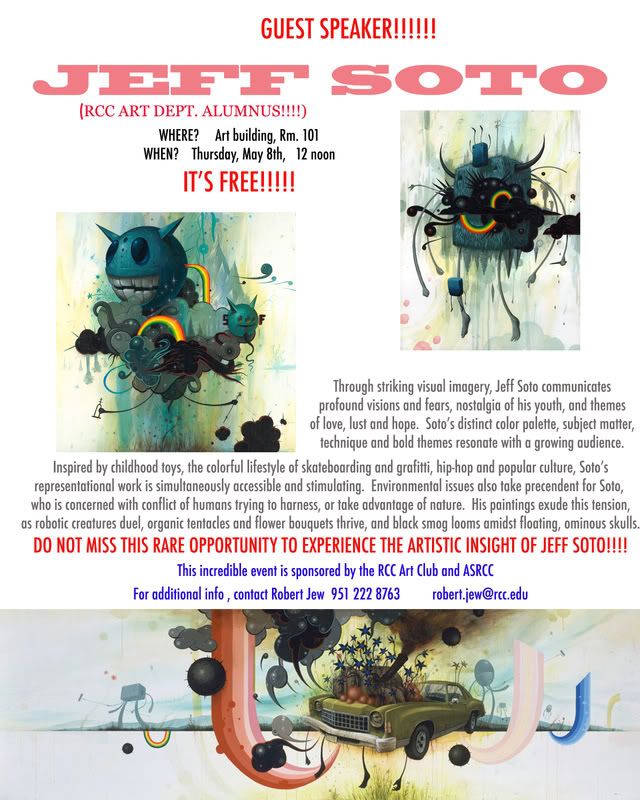 Pretty excited about this...
Jeff Soto, world-renowned fine artist and illustrator, will be coming to Riverside Community College to talk about his life, art and experiences with the world. A native of Riverside, Jeff Soto attended Riverside Community College and developed his skills as an artist before applying to Art Center College of Design in Pasadena. From there, Soto continued to grow and eventually began his career as an incredible artist. Although the college will be hosting this event, guests from all walks of life are encouraged to attend.
Jeff Soto's work is frequently displayed in Juxtapoz magazine, as well as various publications throughout the globe. For more info on the event, feel free to contact me. For more info on the artist, feel free to contact google.
JEFF SOTO -- Free!
May 8th @ Noon
Riverside Community College Art Room 101
4800 Magnolia Ave, Riverside, CA 92506
(951) 222-8000
* Sidenote: Personally, I'm digging this so much. It's really cool to see someone who's "living the dream" come back to the school, a school booming with talent, they attended and give some words of wisdom to younger hopefuls. I'll be in attendance and can't wait to see the turn out. Tell your friends.